Emerging leaders coming together to level up
What is

StartupAZ Collective?
StartupAZ Collective is designed to increase the performance and growth of the region's highest potential startup companies. It's where entrepreneurs combine their talent, network, and resources to help each other achieve milestones and create a lasting impact on the community. Each year, we select a cohort of 8-10 founders to join the Collective.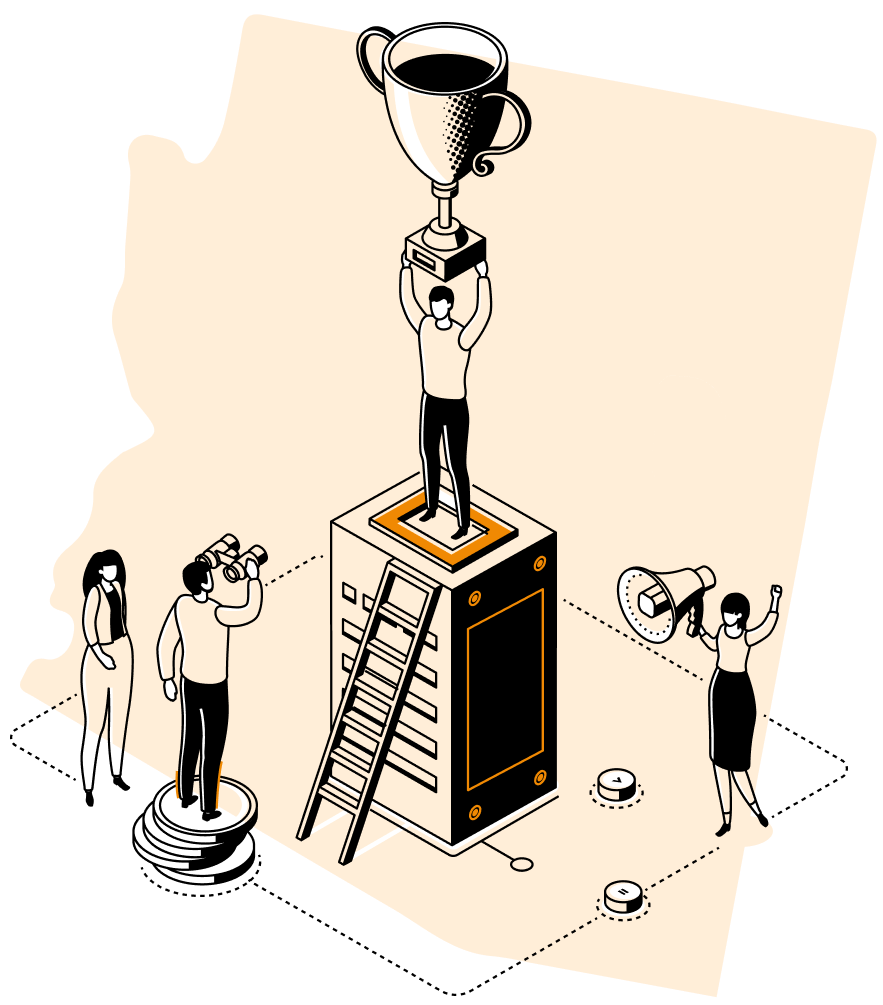 Read the FAQs and submit an application.
You'll meet with StartupAZ for an interview. Selections are made annually in April.
Make a one-year commitment, starting with a 3-day summer retreat, followed by monthly accountability check-ins with your cohort.
Lean in, Learn and Connect
After being accepted to the Collective, leaders make a one-year commitment, kicked off with a 3-day summer retreat, followed by monthly accountability check-ins with their cohort. The retreat and check-ins are elevated by our Founders in Residence (seasoned startup leaders like
Clate Mask, Heidi Jannenga, Brad & Jack Selby, Brenda Schmidt, and Gregg Scoresby, to name a few) and built on candor and trust to help keep leaders accountable for their performance while swarming around individual leadership challenges and opportunities.
StartupAZ Collective Impact
Active SC companies leading the way in Arizona
Sources of Venture Capital
Arizona companies have attracted investment from across the US and globally.
Top Sources of Venture Capital
*Capital raised by SC companies to date
How StartupAZ Supports Companies As They Grow
Collective Conversations
Meet the founders who are shaping the future of Arizona
Getting the Most from the Collective Experience
Selection
Quality > Quantity
Each spring, we recruit and select high-quality leaders of innovative, high-growth-potential startups with activated ventures in market.
The Retreat
Unique Experiences + Candor
The Collective kicks off with a 3-day summer retreat to focus on exchanging best practices, building connections and lowering barriers. The retreat is lightly structured and heavy on candid conversations about what it takes to lead a company and unlock growth. The retreat expands every year with alumni returning to connect with the new cohorts. Experience the retreat
here
.
Monthly Check-In
Accountability + Connection
After the retreat, cohorts gather for monthly accountability check-ins which include status updates, a deep dive on a featured venture, and themed discussions around a universal need (sales, marketing, ops, talent, product, capital, etc.)
FIRs + Experts
Guidance and Mentorship
A key element to SC is surrounding participating leaders with the resources and people they need to unlock growth and build great companies. Seasoned, been-there-done-that leaders (Founders in Residence), executives, and industry experts are pulled into the retreat and monthly sessions to offer support and elevate the discussions around leadership and key challenges.
Commitment
You get out what you put in
To maintain quality and consistency of the check-ins and the retreat, attendance is a requirement. We know life happens, especially when growing a company, however no more than two check-in absences are permitted during this 12-month period. The summer retreat is mandatory.
Generosity
Giving back… to move forward
StartupAZ's mission to help young companies grow AND give back is a core value of this initiative. While The Collective is made possible by the support of community partners and at no cost to participants, StartupAZ recommends and hopes that participating Founders/CEOs sign on to The Generosity Pledge and continue to build generosity into the DNA of our startup community.
Check out our Collective Companies
Interested in the Collective?

Start here.
Each spring, we kick off an extensive recruitment and review process to identify new founders to join StartupAZ Collective. To be considered for the SC Growth or SC Scale stage cohorts, your company must have a repeatable business model with an innovative, market-defining technology or product and be in-revenue finding product market fit (PMF). Businesses with PMF would be considered for SC Scale. Top-line revenue, growth rate and capital raised metrics will also factor into the recruiting process.